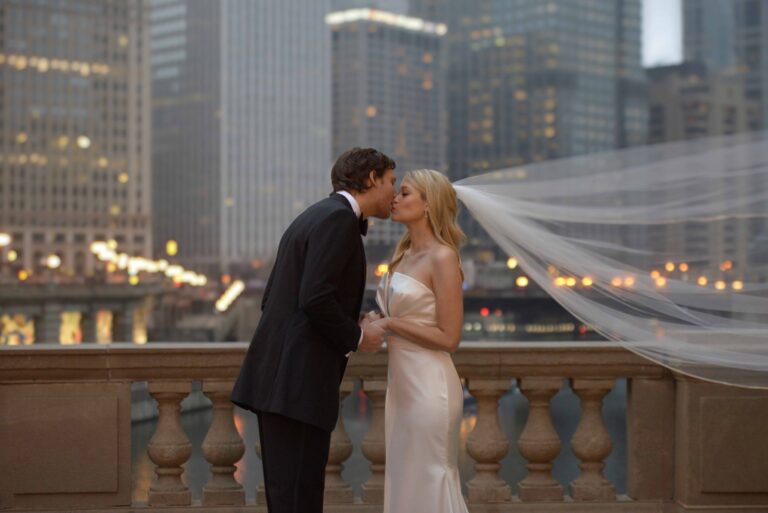 Congratulations on your recent engagement! 
As you start planning your wedding, one of the most important decisions you'll make is choosing the perfect photographer to capture your special day. I understand how overwhelming this can be, so in this blog post, I'll share my top tips and insights to help you find the best wedding photographer for your needs.
As a Chicago Wedding Photographer, I have witnessed firsthand the importance of choosing the right photographer for your big day. Here are some key factors to consider:
When it comes to capturing the perfect shot, experience matters. Look for a wedding photographer who has shot multiple weddings in the past and has a portfolio of work to showcase their skills.
Different photographers have different styles of shooting, ranging from traditional to candid. Look for a photographer who can capture the style you're looking for, whether that's a classic look or a more modern style.
It's important to choose a wedding photographer who you feel comfortable around. You'll be spending a lot of time with them on your wedding day, so make sure you choose someone who you can easily communicate with and feel at ease with. Your engagement session is the perfect opportunity to get to know your wedding photographer and their shooting style. It's a chance to see if you like them and feel comfortable around them, and to make any adjustments before your big day. Use this time to build a rapport with your photographer and ensure that you're on the same page when it comes to your wedding photography vision.
The best wedding photographers pay attention to the little details that make your wedding day special. They will capture the details of your dress, the floral arrangements, and other small touches that make your wedding unique.
Small Business vs. Franchise 
Choosing a small wedding photography business over a franchise can make a significant difference in the quality of your wedding photos. Small business owners are personally invested in their work and take pride in delivering high-quality products to their clients. They pay attention to the smallest details and ensure that every aspect of your wedding photography experience is tailored to your unique needs. In contrast, franchises may offer lower prices but may hire beginner photographers. This can lead to lower quality photographs and a less personalized experience. Ultimately, choosing a small business ensures that you are working with someone who takes their job seriously and stands behind their work, making sure that your special day is captured in the best possible way.
Look for a wedding photographer who has positive reviews and testimonials from past clients. This can give you an idea of what to expect and help you make a more informed decision.
While price shouldn't be the only factor you consider, it's important to choose a photographer who fits within your budget. Look for a photographer who offers transparent pricing and doesn't have any hidden fees.
When it comes to wedding photography, hidden fees can be a frustrating surprise for brides and grooms. Some photography companies may offer a seemingly reasonable package price but then add on additional charges before they deliver their product. It's essential to ask about all aspects of the wedding photography package before signing contracts to avoid any unexpected charges.
One common hidden fee is for editing. Some photographers offer a package price that includes shooting only, but will charge extra for retouching or additional editing requests. This can quickly add up, so it's important to ask about any potential editing fees upfront.
Another hidden fee to watch out for is for digitals or prints. Some photographers may not include any prints or digital copies in their package price and will charge an additional fee for each photo printed or for access to digital copies. Be sure to clarify what is included in the package price and ask about any additional fees.  Not everyone needs digitals or prints, so pay attention to your needs and choose a package that will work best for you. 
To avoid any surprises, brides and grooms should make sure they understand all aspects of their wedding photography package before signing a contract. Ask the photographer for a detailed breakdown of what is included in the package price and if there are any additional fees for editing, prints, or digitals. Being aware of these potential hidden fees can help couples make informed decisions and ensure that they are getting the best value for their money.
Ultimately, the most important factor to consider when choosing a wedding photographer is the quality of their work. Look for a photographer whose portfolio showcases their skills and the type of work they can produce. Also, make sure you choose those whose work you already like, and be aware that you cannot expect someone who shoots only light and airy images to create high quality dark and moody photos, and vice versa. 
In conclusion, choosing the right wedding photographer is a crucial decision that will impact your memories of your wedding day for years to come. Take the time to research different photographers, review their work, and choose a photographer with the experience and style that matches your vision for your wedding day. 
I wish you all the best in your search for the perfect wedding photographer and I'm confident that with these tips, you'll be able to find the right match to capture your special day in a beautiful and memorable way.